Here at Hire Your Day we are always working on styled shoots and collaborations.
Watch this space for news on our latest goings on! Sign up to our newsletter to get news and announcements straight to your inbox.
As well as this we are often in the press for charity events, celebrity weddings, parties and all manner of things!
Find out how we got started here.
---
A few months ago we were involved in a photoshoot, but never would we would have imagined we'd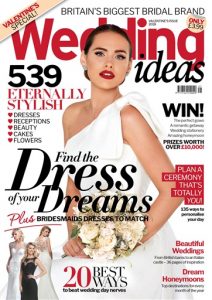 make it in to a Wedding Ideas magazine! We'd love for you to take a look at these stunning photos! Such a great team of suppliers were involved in this shoot.
Photography: Outlite Photography
MUA: Kimberley Louise Makeup
Hair Stylist:Jemma Joanne Hairdressing
Wedding Gowns: Opulence & Grace
Venue: Patricks Barn
Cakes and Macarons: The Garden Chef
Flowers: Katherine Bly Flowers
Furniture: Co-Ordination Catering Hire Limited
Stationary: www.facebook.com/poppleberry
---
ROCK MY WEDDING – KAYLEIGH AND JAMES
We are so thrilled to be involved involved in Rock My Wedding, for Kayleigh and James' wedding at Southend Barns! It truely looked incredible! Here, have a look!
Here's a sneak peak!
---
*****COME AND SEE US IN OUR SHOWROOM!*****
We would love to discuss your wedding with you and go through some ideas, come and see us in our showroom at 5 Warwick Lane, Worthing, West Sussex BN11 3DP.  Please call first and we will make sure we are there as we could be out dressing a venue!